Building a dream
Share - WeChat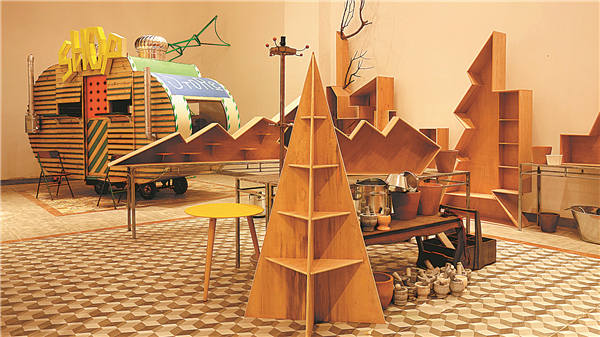 Self-taught architect makes miniature structures, turning wasteland into a charming tourist attraction, Xing Wen reports.
Between the vast sky and the boundless earth, rows of stylish log cabins appear, as wild grass bend to the wind. In addition, a colorful watchtower, cottages on wheels, an A-frame greenhouse, tree houses, stilted houses, animal-shaped huts, transparent houses, a haystack-like slide and an irregular-shaped auditorium, the exterior of which embraces minimalism design, are all scattered on the untamed stretch of land in the suburban areas of Lijiang in Yunnan province.
A peculiar airship-like vehicle made of metal scraps sometimes crawls by on a narrow cemented path that connects the buildings and installations, blowing bubbles from its "mouth".
Each building there has a name and function-a grocery store, coffee shop, concert room, bookshop or temporary dwelling. The modernity, colorful accents and whimsical quality the playful place exudes may make visitors feel like they are circumnavigating a land from a fairy tale.
The place has been built from scratch by Qiao Xiaodao, 43, who has never received formal architecture education.
Most of the time, instead of sketching the layout of the prototype beforehand, he would fall back on his instinct and experience when constructing a building or an installation.
However, designing and constructing stylish houses is just among many accomplishments of the tall, lanky man with sun-tanned skin.
Most Popular