Higher education
Share - WeChat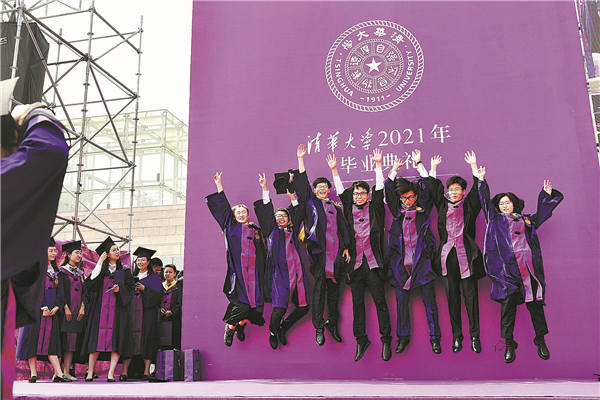 The improved standing of China's universities in a global ranking shows the progress made to narrow the gap between the nation's top institutions and their overseas counterparts, Cheng Yuezhu reports.
Ranking of global universities shows that Chinese higher learning institutions have made significant progress in recent years, supported by China's plan to develop world-class universities and first-class disciplines.
The 2021 Academic Ranking of World Universities was released on Aug 15 by independent academic research organization ShanghaiRanking Consultancy, listing the best 1,000 universities in the world.
This year, rankings of domestic institutions continue to improve. A total of 157 universities from the Chinese mainland rank in the top 1,000, an increase of 13 compared to last year's statistics, and among them, 64 universities have risen to higher placements.
Seven universities from China's mainland rank in the top 100 this year, with Tsinghua University in 28th place and Peking University ranked 45th. Sun Yat-sen University from South China's Guangdong province made its first appearance in the top 100 in 89th place.
On a global scale, the top 10 universities remain stable. Harvard University tops the table for the 19th year. Stanford University and the University of Cambridge remain in 2nd and 3rd places, respectively.
The universities making up the top 10 are Massachusetts Institute of Technology, University of California, Berkeley, Princeton University, University of Oxford, Columbia University, California Institute of Technology and the University of Chicago. The University of Oxford rose from 9th place last year to 7th spot.
Most Popular