Students do their part for global governance
Share - WeChat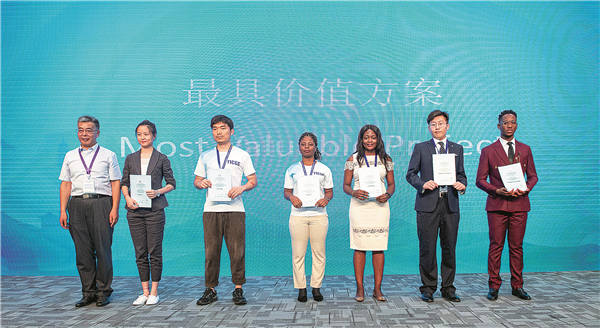 The Rong Chang Cup Youth Innovation Competition on Global Governance in Huzhou, Zhejiang province, came to a close on July 31.
Co-organized by Fudan University, the Huzhou government, Shanghai Rongchang Charity Foundation and the Shanghai International Culture Association, the competition featured six teams of 74 contestants from 27 countries who conducted field research in Huzhou, analyzed smart city governance models and presented solutions for better city governance to judges.
Among the contestants were Takudzwa Duncan Maluwa and his five other team members from China, Cameroon, Zimbabwe and Nigeria. The team proposed a city-level crisis management platform that integrates social resources through technologies to tackle emergencies.
The proposal was awarded the "most valuable project" award.
"Most people expect smart cities to be all about advanced technology and infrastructure, but they downplay the need for crisis management," says Maluwa, a Zimbabwean who is currently an undergraduate in international relations at the Beijing International Studies University.
In their final proposal, Maluwa's team looked into problems faced by some cities in which residents are overly dependent on the government. These problems include inadequate social participation, infrastructure that is not resilient to crises, lack of economic backup and late response and recovery during a crisis.
"Global smart cities are facing challenges, ranging from too much dependence on technology and climate change, to aging problems. How would cities adapt to these problems? It's difficult to mobilize the government and society to work hand in hand to quickly respond to emergencies," he says.
To make the smart cities more comfortable for their citizens, the team put forward a crisis management platform covering three stages: before, during and post crisis.
"Before a crisis, cities should set some money aside, set up an online economy that allows citizens, enterprises, and NGOs under the leadership of the government to coordinate. During a crisis, there should be quick response and citizens should not wait for the government to come and help them. They can work with the government and mobilize aid themselves," he explains.
"The post-crisis period is tricky, as most cities need time to recover, but a smart city must have a resilient system as a basis. It's necessary to educate people on the importance of smart cities and society-government cooperation. Through the competition, I realize that we are one world that needs to be united for a better tomorrow," he adds.
A team comprising Cui Enhui from China and Miyatami Maki from Japan, both students of Fudan University, as well as a team from Babes Bolyai University in Romania, manned by students Paul Iacob and Pilca Tudor Sergiu, won the "most innovative team" awards.
Cui's team, which sought to address the challenge of providing access to community services for an increasing population, created a smart community service model to foster communication among residents, neighborhoods and governments through social networking platforms, and a digital management mechanism that collects data and enhances efficiency.
"I was inspired by the discussions with team members and communication with mentors in the contest," says the 20-year-old undergraduate who majors in international politics.
"The experience has also motivated me to start a career in the field of global governance in the future."
Development has been the theme of the competition since its launch 15 years ago, with annual themes aligned with the United Nations sustainable development goals such as green development and cross-cultural communication, Zhao Dongyuan, a member of the Standing Committee of the Party Committee of Fudan University, said at the opening ceremony on July 28.
"The contest promotes the formulation of international public policies and inspires global young pioneers to contribute to global governance," Zhao said.
As one of the judges, Xu Jingyuan, an associate researcher at the Institute for Global Public Policy at Fudan, says she is amazed by the creative ideas of the younger generation and their sense of social responsibility.
Many crucial areas were discussed in other proposals, Xu adds. These areas include technology used in historical buildings' conservation, intergenerational communication and graduate job search in the context of the COVID-19 pandemic.
"In recent years, the world has faced increasing challenges and severe disasters. I'm thrilled to see young minds conveying innovative ideas to help global governance," Xu says.
Most Popular