Suga kills off talk of early dash to polls
Share - WeChat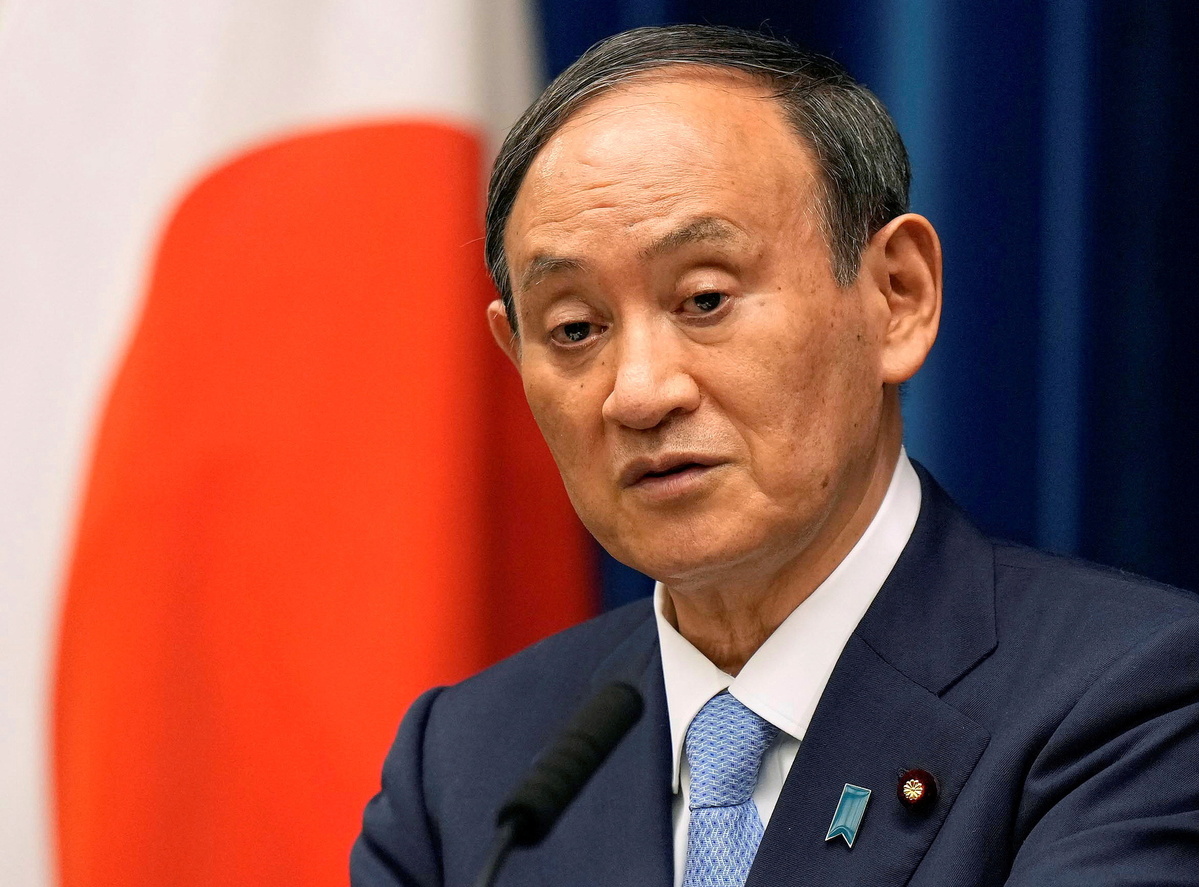 PM denies rumors over maneuver to face voters before party showdown
Japanese Prime Minister Yoshihide Suga on Wednesday denied reports that he was planning to dissolve the parliament's lower chamber in a maneuver that had been seen as a way for him to face the voters before a key party vote.
Suga is due to face off against rivals for the leadership of the ruling Liberal Democratic Party on Sept 29.
The prime minister on Wednesday also ruled out the postponement of the party leadership vote until after a general election to be held in October.
"I've said COVID-19 countermeasures are my top priority, and that has not changed at all," Suga told reporters at a news conference on Wednesday. "Considering the severity of the current situation, dissolving (the House of Representatives) isn't possible right now."
The current term of Japan's House of Representatives, the lower-and most important-chamber in the legislature, runs until Oct 21. According to the law, the prime minister has the power to dissolve it earlier.
On a day of political drama, media said another possible scenario for Suga would be to let the House of Representatives members serve out their terms, something that has only happened once under Japan's postwar Constitution, in 1976.
Kyodo News Agency said that under this scenario, campaigning for the general election would likely begin on Oct 5 with votes cast on Oct 17, citing unidentified government sources.
"It all comes down to the COVID-19 situation. It's impossible to decide whether to dissolve (the lower house) or not just yet," Kyodo quoted one person close to Suga as saying.
On Wednesday, Suga avoided a direct answer on questions about whether he would let members of the lower house serve their full terms.
"There are no plans to push back the LDP leadership election, and we will work around the dates available for the general election," Suga said.
In response, Jun Azumi, head of parliamentary affairs in the main opposition Constitutional Democratic Party of Japan, criticized the prime minister's unwillingness to set a date for the general election as "irresponsible".
Japan is witnessing its largest wave of infection cases, with hospitals struggling to handle a surge in patients with severe symptoms amid the spread of the highly contagious Delta variant of COVID-19. The approval rating for Suga's Cabinet has dropped to its lowest levels since he came to office last September, and some within his own party have questioned his leadership.
Low ratings
Suga's approval rating has been deteriorating over the past months due to voter dissatisfaction over his handling of COVID-19, with surveys showing it hit a record low in August.
"The government's coronavirus response has severely damaged the public's confidence in the Cabinet's ability to take charge," the commentary on a Nikkei survey conducted last weekend said.
"Detractors cited deficiency in leadership ability as the biggest reason for withholding their support."
In an attempt to buoy public support, local media said Suga is expected to reshuffle LDP officials and his Cabinet early next week. Toshihiro Nikai, the party's No 2 man and longest-serving secretary-general, is set to leave the post, according to reports.
Agencies and Xinhua contributed to this story.